Nineteenth Street Baptist Church is considered to be the first and oldest Black Baptist church in the city of Washington. Since its founding in 1839, the church has figured prominently within the cultural and spiritual life of the city. It also has drawn national and international attention for its commitment to spreading the gospel, serving the poor, and fighting for equality.
The congregation was established as First Colored Baptist Church of Washington on August 29, 1839. Its earliest beginnings were within The First Baptist Church of the City of Washington, D.C., organized in 1802. There, Black members worshiped alongside whites. In 1833, after First Baptist began to segregate its members, as did other congregations of the time, Black members began to worship at a building that previously had housed First Baptist. That site was on the southwest corner of 19th and I Streets NW.
In 1839, the worshipers united with a group led by Rev. Sampson White and formed First Colored Baptist Church of Washington. White was its first pastor. The church, which eventually purchased the 19th and I Streets property, was incorporated on May 5, 1870. It received its charter as Nineteenth Street Baptist Church of Washington, District of Columbia, on November 16, 1870. A new edifice was erected in 1871 and served as the worship site for over a century.
In the church's 181-year history, 14 pastors have served at Nineteenth Street. Remarkably, the church has had only four pastors in almost 140 years.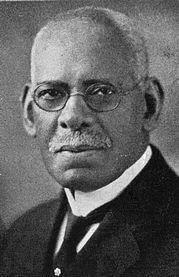 On November 12, 1882, Rev. Dr. Walter Henderson Brooks was installed as pastor. Under his leadership, which spanned 63 years, the church grew to over 3,500 members, attracted leaders of the African American community, and became one of the nation's leading Baptist congregations. The church hosted prominent events, among them a meeting in 1915 of Black Civil War veterans of the Union Army who organized a "colored citizens' committee" to build a monument to Black achievement. That meeting was the catalyst for the Smithsonian's National Museum of African American History and Culture. Brooks' leadership and social advocacy ushered the church into an era of prominence that continued well after his death in 1945.
In 1946, Rev. Dr. Jerry A. Moore Jr. became the pastor. Moore had served as Brooks' pastoral assistant and was his student at Howard University's School of Divinity. Under Rev. Moore, the church continued to grow. He created programs such as Youth Church, Vacation Bible School, and Noonday Lenten Services. Rev. Moore also was active in the life of the community. From 1974 to 1984 he was a member-at-large on the Council of the District of Columbia.

On January 26, 1975, Rev. Moore led the church to its present location at 4606 16th Street NW. Many of the parishioners had moved from the 19th and I neighborhood, so the church purchased the B'nai Israel Jewish Synagogue on 16th Street. Moore was pastor for over 50 years, retiring in 1996. He died in 2017.
On July 25, 1997, the church elected Rev. Dr. Derrick Harkins as pastor. Harkins had been the senior pastor at New Hope Baptist Church in Dallas. Under his leadership, Nineteenth Street expanded its outreach, including missionary work in Burkina Faso and Jamaica. Harkins also advocated for immigration reform and addressed racially motivated violence. While pastor, he worked as National Director of Faith Outreach for the Democratic National Committee. During Harkins' pastorate, Nineteenth Street twice hosted an historic family: Barack Obama and his family attended Sunday service on the eve of his inauguration as president and on Easter in 2014. Harkins stepped down as pastor in 2015 for a position at Union Theological Seminary in New York City. Rev. James A. Crosson Jr., who had been the assistant pastor for 17 years, became interim pastor.
The next senior pastor, Rev. Darryl D. Roberts, Ph.D., was installed on February 19, 2017. Rev. Roberts had served as senior pastor of Mount Welcome Missionary Baptist Church in Decatur, Ga. From 2007 to 2011, he served as associate minister and assistant pastor of the Historic Ebenezer Baptist Church in Atlanta. Roberts' emphasis has been on investing in children, increasing membership engagement, and strengthening community outreach. The church, under his leadership, secured a full-time youth pastor, expanded Youth Church, and increased youth participation in worship services.
As Rev. Roberts wrote in a letter marking the church's 180th anniversary in 2019, "We know our history is but a stepping stone. It is an opportunity to reflect on the great strides of our ancestors and to recommit ourselves to being as impactful and as vibrant in the world today as our church body has always been."
Our Pastors:
Rev. Sampson White 1839-1841
Rev. William Williams
Rev. Gustavus Brown 1853
Rev. Sampson White 1853-1856
Rev. Chauncey Leonard 1859 – 1862
Rev. Samuel Madden 1862
Rev. Duke W. Anderson 1868 – 1871
Rev. King 1871 – 1873
Rev. Waring
Rev. Anthony Binga
Rev. Jesse Boulden
Rev. Dr. Walter H. Brooks 1882 – 1945
Rev. Dr. Jerry A. Moore Jr. 1946 – 1997
Rev. Dr. Derrick Harkins 1997 – 2015
Rev. Darryl D. Roberts, Ph.D. 2017 –  present